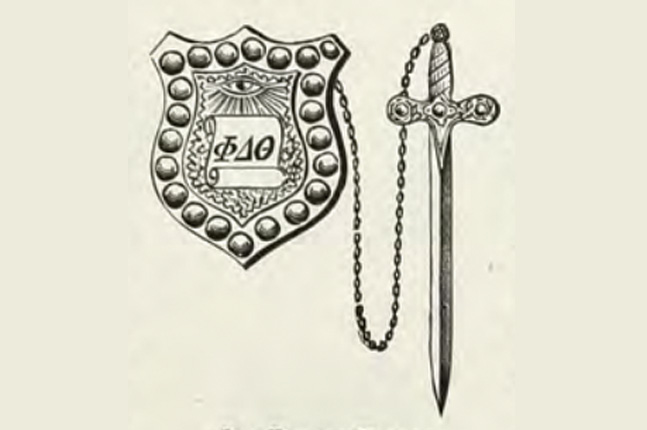 Sword and Chain Added to Badge
1871
Phi Delta Theta's original badge consisted of a flat gold shield with an eye affixed to the upper portion, a scroll fixed to the lower portion, and the Greek letters "ΦΔΘ" inscribed upon the scroll. In January of 1866, a sword was attached to the golden shield by J.C. Black, a brother at the University of Chicago chapter. However, the addition of the sword was not official until the 1871 Phi Delta Theta Convention in Indianapolis.
On May 11, 1871, the newly-revised Constitution declared that the badge should consist of a shield, bearing the eye and scroll, with a sword attached by a chain. At the time of its inception, Phi Delta Theta was the first fraternity with a sword incorporated into its badge design. The design of the added sword and chain was created by James Farrington Gookins, Wabash '64, who later designed the coat of arms. The badge, except for size and ornamentation, has remained unchanged since 1871.
Brothers today continue to wear the badge as a symbol of Phi Delta Theta's Cardinal Principles—Friendship, Sound Learning, and Rectitude. The proper place for the badge of Phi Delta Theta to be worn is over the heart, directly on the dress shirt, rather than on one's coat lapel.
---